Company VOLME-DRAHT GmbH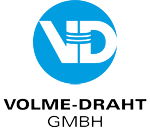 VOLME-DRAHT GmbH is a subsidiary of Rudolf Rafflenbeul Stahlwarenfabrik (steel factory) - which has been a very successful mid-sized family business since 1902. The VOLME-DRAHT GmbH production site is located in Hagen. For 40 years, the company has been specialising in the production of high class cold heading wires and carbon steel wires.
We supply numerous well-known manufacturers of connecting elements and cold formed parts.
No matter, if standard parts or particularly designed special models - VOLME-DRAHT provides special wires at customer's option, which our customers utilise even for the most complicated conversions.
Our customers do not only benefit from the know-how of our employees, but also from the latest production engineering, that guarantees excellent quality and accuracy (» Facts & Figures).
History
In 1978, the shareholders Rudolf Rafflenbeul GmbH & Co, Hagen, and Montaneisen GmbH, Essen, found the company in Hagen-Eilpe and start with the production of drawn wires.
For more than 40 years we have specialized in the supply of high-quality cold heading wires for screws, nuts, rivets and cold extruded parts for the highest forming. Our products are used today in numerous industrial sectors, such as automotive, machine and steel construction as well as in the tool and construction industry.
Our parent company, Rudolf Rafflenbeul Stahlwarenfabrik GmbH & Co. KG, has a high-convection furnace, a fully automatic surface treatment system for polymer and thermal coating, among other things. Dimensions from 2.50 mm - 32.00 mm round as well as various profiles can be manufactured in the wire drawing department.
In April 2007, the shareholder Montaneisen GmbH, Essen, left the company. The shareholder Rudolf Rafflenbeuel GmbH & Co, Hagen, took over these shares.